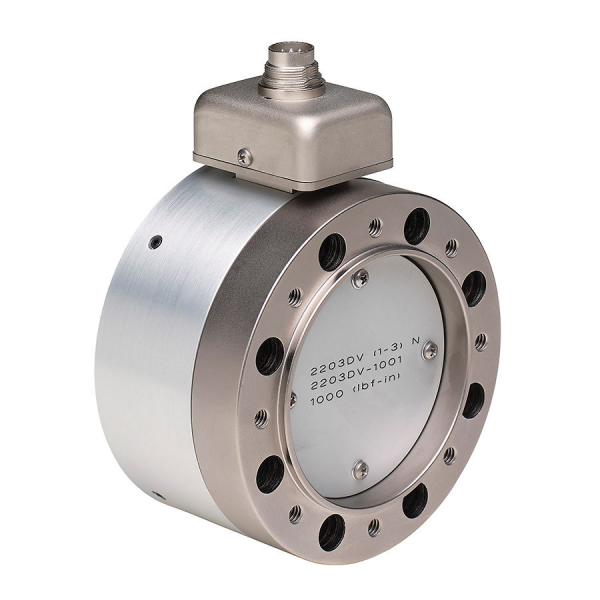 Series 2300DV Reaction Style Torque Transfer Standards from S. Himmelstein and Company have extreme accuracy and are ideally suited for non-rotating field calibration of production Torquemeters. These sensors will perform as a complete, ultra-precise torque transfer standard without the requirement for a mV/V calibrator or other external device, thus also avoiding the additional errors associated with them. They will allow field calibration of installed torquemeters without the requirement to remove and send them to a remote torque calibration laboratory.
The Torque Transfer Standards are characterized by high torsional stiffness and low deflection.  Multiple bridges and elegant sensor design provide high immunity to clamping and other extraneous loads. High overrange on the electrical output signals avoids errors from clipped torque peaks. High mechanical overload results in significant safety margins and reduces likelihood of damage. They are available in three accuracy grades — ±0.04 percent, ±0.02 percent or ±0.01 percent of full scale combined linearity and hysteresis — and they have world class temperature performance. All are calibrated CW and CCW to rated load in S. Himmelstein and Company's ISO 17025, NVLAP accredited laboratory (NVLAP lab code 200487-0).
Analog and digital outputs are simultaneously available. They are easy to use with included interface software that allows fast PC setup and re-configuration while selecting from up to 10 units of measure, all without re-calibrating. There are no pots or other parts subject to maladjustment during vibration or because of unauthorized users.
S. Himmelstein and Company has been offering innovative torque measurement solutions since 1960, manufacturing a full line of shaft, spline, flange, pulley, wheel and reaction torquemeters, and other torque measuring instruments. For more information, call 800-632-7873 or e-mail sales@himmelstein.com